Why a VP Sales in a startup or early scale up should not be cold calling (or have their own clients).
A couple of weeks ago, I saw the post on LinkedIn of a VP sales who proudly said that cold calling was one of his core activities.
I was really surprised by this. I launched a poll on LinkedIn, but also there, 75% of the respondents said that a VP sales should be cold calling.
I create revenue strategies for B2B tech clients.
Many of them are companies that are moving from founder led sales teams to having their first sales VP, so I do understand why people think they should be cold calling.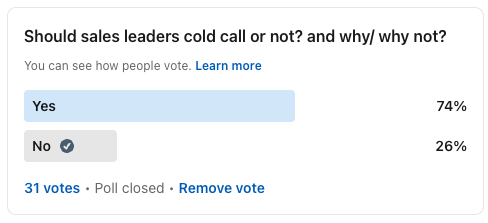 3 Reasons why people think VP Sales should be cold calling
1. Cost
The first one is the cost.
When you're a founder, your first VP sales is without any doubt the most expensive hire that you will ever make.
In that sense, many would founders prefer giving them their own clients to "earn it back".
Here many founders see the first VP sales as a cost, while you better look at it as an investment. After all, a good VP will help you to ramp up your revenue, as a leader, not as a contributor.
2. Founder led vs. sales VP sales
When we look at it from the founders CEO point of view, they have been doing founders led sales for quite some time.
Founder led sales is very different than sales team led sales.
Many founders have been heavily involved in closing those deals, many think that a VP sales will do the same as they have done, only full time. l
The reality is that you hire a VP sales to build your business for direct impact and future growth, in other words for strategic impact, not to sell.
They will create and finetune processes, document what works, create playbooks, and make sure your sales team sells better.
3. The VP Sales title
And then there is that.
Lots of people assume that when they have been good salespeople for three to five years, that they're ready for that next VP sales role.
And yes, they very well might be, but let's not forget when you are five years into a high performance sales role with the right environment, the right coaching, then you become a splendid sales professional but not necessarily a good sales leader.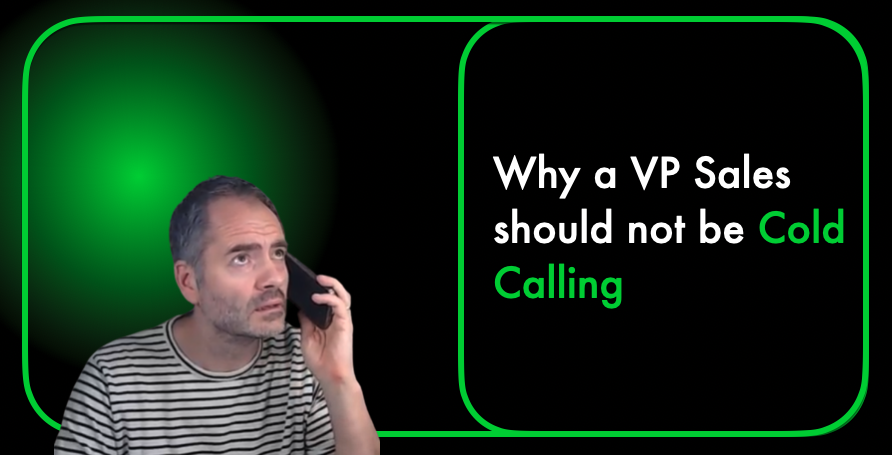 And that's the big but, a VP sales is not a sales rep, and they need a completely different skill set.
There's a lot of segmentation going on into sales: 
– from enterprise sales mid-market sales 
– the sales devs that create the opportunities
– the account executives that close it
– CS even when we consider them as part of the revenue organisation that are looking to retain and improve the usage of the product.
And this brings me back to the cost.
When you look at that segmentation and you expect your VP sales to cold call, it's not the most efficient way to use the time of your VP sales because they're easily five or 10 (or 20) times more expensive than your SDR.
So one power hour of your VP sales is basically the time of 10 power hours of an SDR.
The cost argument isn't really a logical explanation.
The skills to be a good VP of Sales
You need a completely different skill set as a VP Sales compared with a sales rep role.
First of all, the goal is to obtain your results through other means and with other people.
So a VP Sales will need to work on people skills and on people management skills.
You will get results through collaboration, rallying your people, motivating your people, supporting your people.
When we look at leadership skills, it doesn't mean leading from the front as in doing it for them.
You won't be cold calling, at the same time, you will help your reps making better at their skills, through coaching, and sitting next to them to give feedback.
Another argument I hear sometimes is that a new VP of sales wants to keep cold calling so they wouldn't lose their cold calling skills.
Again, those are two different skill sets and evolving in a high performance environment also means unlearning skills.
Issues when you let your VP Sales sell
Quota Setting:
When you would be a VP sales that is expected to sell, then you're in two seats: One where you will be setting the targets for yourself and the team, and another where you will execute.
This will always create difficulties: what quota will you give? Will you give yourself the same quota as the rest of your team, while not having that much time to work on the other stuff? How will you decide then the size of the quota?
In addition, when you run behind as a VP sales you will automatically focus on getting your target and not on working what you're supposed to be working on which is the processes but also working on the future planning and other tasks.
Assigning leads and territories
When you look at the deals, what type of deals or what type of clients will you give yourself?
Will you, or as a founder to the VP sales, will you give them the big leads?
Will you give them the difficult clients?
Will you give them the easy clients?
There is a case to make in all of the three arguments, but there is not any good answer, and you risk of creating competition between the VP sales and your team.
You don't want to have competition. You want to have a smooth running machine to start growing and scaling and you don't do this by adding complexity or problems.
What now, dear VP Sales?
What if you are a VP sales and you're expected to cold call?
I don't want to be blind for the reality.
In startups, you will definitely do operational stuff as a VP Sales.
When you go into startup and into the early scale ups, you will start growing from 40-100-500% per year and more.
From the cost standpoint:
Can you do it differently? Can you accelerate deals rather than initiating deals?
As we said earlier, the cost of your SDR is much lower than your own cost.
Can you adjust that structure.
The VP Sales job title
Make up your mind what you want.
Do you want to grow into strategy? Do you want to grow into people management?
Or perhaps you feel working with people is less for you and you want to grow into sales.
There are many VP sales and director of sales that are individual contributors that manage top accounts and mega deals. They absolutely love coordinating and initiating those deals and building up the accounts, often on a global scale… and they make very good money.
This is something that you should be decide.
VP Sales in a startup or early scale up
As we just stated you WILL do operational stuff in that stage of a company, and the only thing to do is bite through it and make your company ready for growth.
Look at how many salespeople is the threshold to move completely away from that operational stuff so you can focus on building that future and on supporting and facilitating your sales team. And then in that sense, you absolutely need discipline, the grit and bite through it and work for the future.
So this is it.
Don't forget to follow or subscribe to get insights and tips around revenue strategies and if you think somebody can benefit from this post, please share it and thanks for reading.
How can I help you?
For b2b CEOs and sales leaders between 1 and 20 million ARR: Are you looking to create a revenue strategy and interested to work with me? Let's talk! here.
For b2b Tech CEOs < 1 million: I am launching a dedicated program for Founder Led Sales CEOs, looking to scale.  You find more information here.
I am creating a free report: 'State of revenue strategy in tech. 2024'. I would love your input, and you can participate here by spending 5 minutes to fill in the survey.