How to ramp up sales reps in a scale up?
This is a fundamental question, because on the one hand as a scale up you want to maintain and increase your growth rate, and you do this by adding people.
On the other hand, adding people is a downward drag, since you invest resources in them in the form of people, time and money.
How can you minimize that downward drag?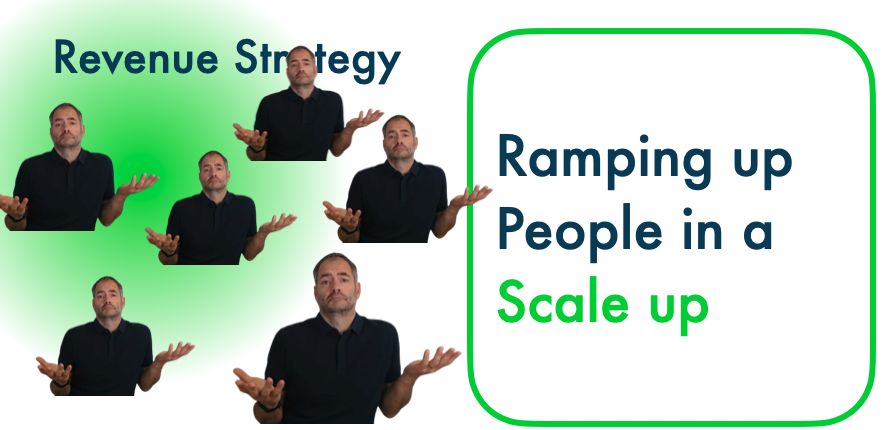 Let me first tell you how I did it incorrectly myself.
When I had to triple my teams, I asked my high performers to be involved in the process and obviously as high performers they wanted to help.
But that was not a great idea:
My high performers started to miss their sales quotas because they were spending so much time onboarding those new hires.
This had an impact in the total teams performance as well as the motivation because you had missed revenue and broken processes.
I changed it into what is something that works very well for me.
There are three distinct steps to take:
1. Create an enablement program
Make sure that you document everything and you note down what works, but also what doesn't work and why things don't work.
In addition, create playbooks, scenarios, scripts, different processes, because we all know sales is a system and you cannot just wing it.
When you onboard people, and have your processes documented in a playbook or in a sales kit, they can go there and look at it rather than constantly asking those high-performers what to do or where to go to find something.
When you have an enablement program, in my experience it is important to set the expectations for the new hires: what are they expected to know at the end of the onboarding, but also at the end of the first quarter, second quarter, and what is the future path. So in other words, make sure that they know what they should be able to do when.
Finally, make sure to have an assessment at the end of the onboarding program.
This helps you to benchmark them:
What did they learn and retain during the onboarding
What are their gaps after the onboarding
What will you work on to close those gaps.
2. High Performance Sales Coaching
When we talk about filling those gaps, we come at the second element of the best practice and this is intense coaching.
But on 2 major levels:
Coaching for their wellbeing.
When you work in a scale-up, we are used to the rhythm.
For new hires, you can compare it with them standing in a station, and suddenly a high-speed train passes by and they have to jump on it right on time.
This can be literally a shocker to their system.
Help them to ease them into that transition.
Coaching on their skill gaps.
There will obviously be multiple gaps and the reflex can be to work every week or every two weeks on another scale or on another gap to try to fill as many gaps as possible.
In reality, it is much more efficient to work on 1 specific skill for 1 quarter.
This will often have an impact on the different skills and on the different elements in the sales process.
When we talk about coaching, we also talk about involving the high performers.
What I first did incorrectly, is that I had one buddy that was responsible for everything to ramp up that salesperson.
Later, I transformed the buddy role into a coordinator role with much better effects because you involve the other high performers and everybody is strong in certain elements.
I had people that are strong in analytics, others in discovery, others in more complex environments, others in forecasting.
The buddy coordinated with those other high performers in planning and into ramping up that new hire.
Another aspect in coaching is to let them taste the real environment.
It is a red flag when new salespeople don't talk to clients within the first month.
In my experience it almost never work out.
Let them talk with real clients from week 2 onwards, whether it's their future clients or just other clients where they can join conversations.
Finally, let them participate as soon as possible in group coaching sessions and have them practice with the entire team.
Perhaps the first session as an observer, but then on they should be fully participating.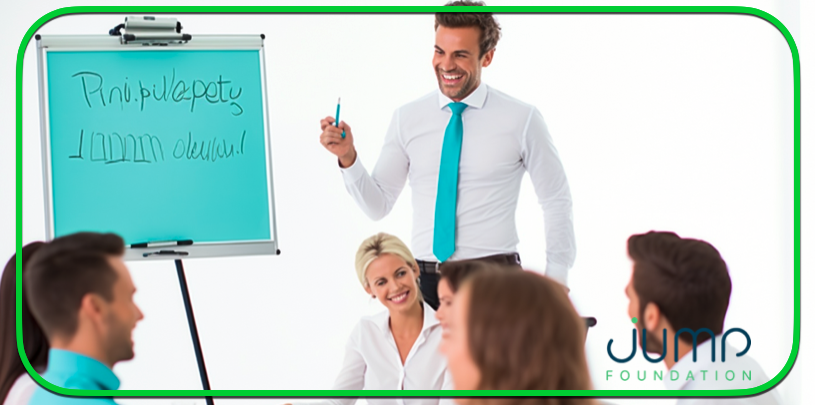 3. Let the new hire contribute
When we talk participating, we come at the third element in the best practice, and this their contribution.
The mistake I made here, and I see it often happening in other places, is that both the new hire and the company look at a new hire as a blank sheet, as a junior.
The result is that new hires often think: "oh I need to be quiet for 6 months and I just need to soak everything in."
No, best practice is to let them use the luggage they come with.
Try to find out what gaps we have in our process, what can we learn from them and if they see something that we can improve, let them make a case and speak up.
It is always valuable to have someone looking at your existing set up, from their perspective and experience.
This will also have an impact on the motivation and involvement of them, which helps them ramping up faster.
How can I help you?
For b2b CEOs between 1 and 20 million ARR: Are you looking to create a revenue strategy and interested to work with me? Contact me here. 
For b2b Tech CEOs < 1 million: I am launching a dedicated program for you, since you have specific challenges.  You have more information here.
For sales pros: Looking to nail your storytelling skills?  Pre-register here for my online course.