I guarantee you that you can double the revenue of new hires in their first 12 months.
I have had 1 (one!) good new hire onboarding experience in my entire career for sales reps.
In that company, the fastest new logo deal of a new hire I have seen is 1 week, and most people closed their first deal within their first month on the floor.  
In my experience, there are 2 inflection points you need to take into account in ramping up new sales reps. 
The first one is when they close their first deal according to the process (point 1 in the illustration).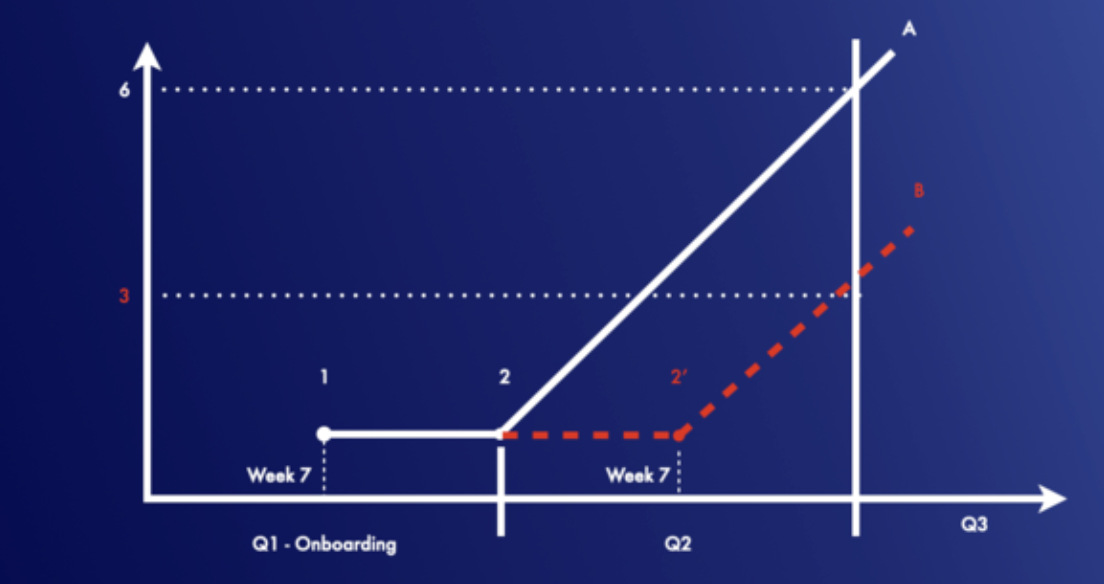 The second one is when they (so it is more a period rather than a point 😉 ) start adding opportunities to the pipeline and closing deals following the process. It means they start to systemise their knowledge of the previous couple of weeks.
While the first deal (that first point) can be attributed to luck, the second inflection point has all to do with how you handle things:
👉 your selection of the new hire (off topic for this article)
👉 your onboarding
👉 you support your ramping sales people 
👉 your revenue playbook is up-to-date (and readily available)
How you nail those points, will impact:
1. when they hit that second point
2. what momentum they have (the angle of the line after point 2) to continue their growth.
When you scale, that momentum is key to your success: will your rocket reach momentum to achieve hyper growth (40 – 100% and more) and reach to the stars or will it fall back on earth?  
In other words, will you reach high performance, or be stuck with average returns on your sales reps, blaming reps, outbound, sales or the market?
Scale ups take this momentum into account when they set ramping targets for their new hires.
Let's take a situation where a new hire starts in a normal SaaS business with a 3 month sales cycle.  
Obviously, in this reality your sales reps should have a full pipeline at the start of the quarter to hit the current quarter.
In addition, the company sets ramping sales targets, taking into account the reality of the new hire productivity.
✅ If the second inflection point falls more or less at the start of the new quarter (See point 2 in the illustration), they have an entire quarter to build Q3 pipeline, and this should give them enough time to be ready to start progressing that pipe in Q3 and build Q4 pipeline.
❌ On the other hand, if the second inflection point falls in the middle of Q2 (see point 2' in the illustration), they only have half a quarter to fill the next quarter pipeline.
Even with ramping sales targets, this means they will run the entire quarter behind their sales target, creating stress on themselves, the team, the prospects and the system.  
They will need to be able to try to find quick deals for the current quarter, while building up pipeline for the next quarter.
You also see from the illustration, that even with the same momentum, the initial revenue -at least, the number of deals, is half of a sales rep that got their 2nd inflection point just 7 weeks earlier (line A and B).
I have seen it time after time again… if you run behind from the beginning, it takes a gigantic effort from the rep, peers and managers to get them back on track, and very often it fails. I have seen how lagging reps get to 6 opportunities in a pipeline, while reps in full momentum get to 20 – 23.
This is why I like the analogy of the rocket so much: 90% of the success lies in the preparation, the conditions and the launch to build up momentum. Trying to build momentum afterward requires a huge amount of resources.
Whenever you feel ready to start accelerating your revenue, feel free to drop me a message.
Have a good week!